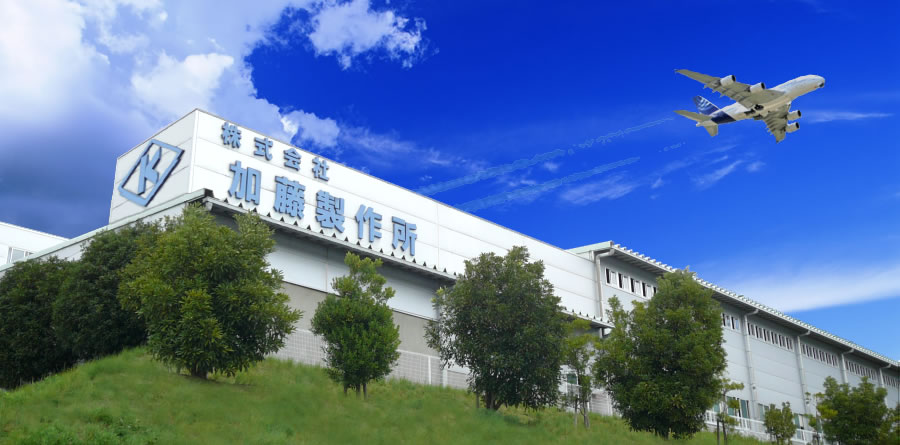 Machinery Manufacturing For Aerospace & Defence Industries
Dedicated to providing the capability and ability to deliver precision aerospace & defence parts to domestic or global customers.
Kato Manufacturing Co., Ltd. has current technologies and skilled and experienced team to manufacture and deliver your requirements.
Our 4,5-axis machining centers and FMS (Flexible Manufacturing System) will further enhance our performance.
Company Outline
Company Name
Kato Manufacturing Co., Ltd.
CEO
Takashi Kato
Establishment
April 1 1947
Capital
10 million yen
Business Contents
Machinery Manufacturing of Aerospace & Defence Equipments Parts and Tools Designing/Manufacturing
Address
Head Office Factory
82–20.5–Chome Kakamihigashi–Machi
Kakamigahara City Gifu–Pref.509–0103 JAPAN
Techno Plaza ‡V Factory
3-12-1 Technoplaza Kakamigahara City Gifu-Pref.509–0109 JAPAN
Matsusaka Factory  Aircrafts Parts Manufacturing Cooperative
22 Kouyo-Cho Matsusaka City Mie-Pref.515–0053 JAPAN

Major Customers
Mitsubishi Heavy Industries, Ltd.
Kawasaki Heavy Industries, Ltd.
ShinMaywa Industries, Ltd.
NIPPI Corporation
Certifications
JIS Q 9100 (ISO 9001)
Access Map
Kato Manufacturing Co., Ltd.  Head Office Factory
82–20.5–Chome Kakamihigashi–Machi
Kakamigahara City Gifu–Pref.509–0103 JAPAN
Kato Manufacturing Co., Ltd.  Techno Plaza ‡V Factory
3-12-1 Technoplaza Kakamigahara City Gifu-Pref.509–0109 JAPAN
Kato Manufacturing Co., Ltd.  Matsusaka Factory
Aircrafts Parts Manufacturing Cooperative
22 Kouyo-Cho Matsusaka City Mie-Pref.515–0053 JAPAN
¥ WHAT'S NEWII
12/07/05


Techno Plaza ‡V Factory was completed.
15/04/01
Join Aircrafts Parts Manufacturing Cooperative
17/03/22
Conclude a memorandum of BOEING materials procurement
17/11/16
Acquire updated certification of JIS Q 9100 2016 version 
Certifications Acquisition